Behringer PMP2000D Europower Powered Mixer
Overview
The Behringer PMP2000D Europower Powered Mixer is a well featured, well priced Powered Mixer for someone on a budget. Available at Music Park's Perth Shop
Behringer PMP2000D Europower Powered Mixer at MUsic Park in Perth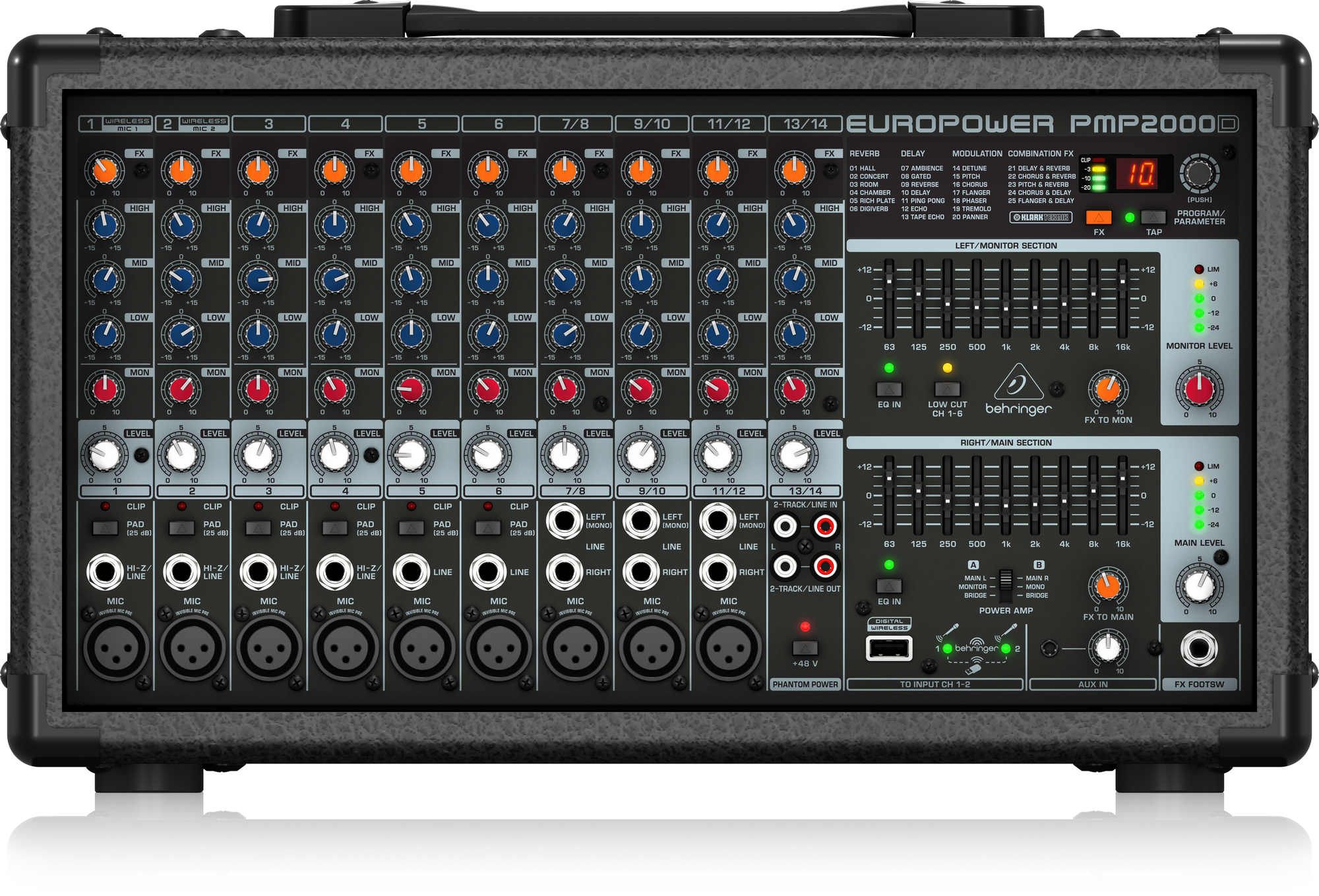 2000 Watt 14 Channel Powered Mixer with Klark Teknik Multi-FX Processor and Wireless Option
EUROPOWER PMP2000D
The amazing PMP2000D Powered Mixer packs 2,000 Watts of high-efficiency Class-D output power, while maintaining an incredible power-to-weight ratio. With 14 available input channels, the PMP2000D features 9 of our premium-grade "Invisible" IMP mic preamps with switchable +48 V phantom power, 4 stereo channels, an ultra-high quality KLARK TEKNIK FX processor with 25 presets including studio-class reverbs, delays, pitch shifter and various multi-effects – and dual 9-band stereo graphic EQs. Top it all off with "Wireless-ready" operation, thanks to our high-quality ULM digital wireless microphones (sold separately), and the PMP2000D is the ideal, easy to use, and ready for anything live sound solution!
Class-D - Massive Power, Perfect Sound
Thanks to our revolutionary Class-D amplifier technology, we are able to provide you with enormous power and incredible sonic performance in an easy-to-use, ultra-portable and lightweight package. Class-D amplification makes all the difference, offering the ultimate in energy efficiency – and eliminating the need for heavy power supplies and massive heat sinks. This amazing technology makes it possible to design and build extremely-powerful products that are significantly lighter in weight than their traditional counterparts, while using less energy and protecting the environment.
Massive Mono or Stunning Stereo
The powerful PMP2000D gives you the choice of 2 x 1,000-Watt stereo, 2 x 1,000-Watt dual mono (1 Mains powered output, 1 Monitor powered output), or 2,000-Watt bridged mono modes. Whether the center of attention happens to be a folk trio, a speech, or a synth-rock band with mind-boggling stereo patches, the PMP2000D can accommodate all of them with ease. This sonic versatility also makes this outstanding powered mixer an excellent choice for churches where vocals and stereo recordings often share face time.
Music Park in Perth Western AUstralia carry a good range of PA gear